Highball Run 8 is a 24/7 multiplayer server that is focuses on providing prototypical sessions, complemented by a friendly and supportive staff. Have no previous experience with Run8 or Train simulators not a problem! Our staff will be there to help you every step of the way. If you want to find out more information about us check out the forums where you will find valuable information on how we operate here at Highball Run8. Keep it on the high irons!
Run 8 News
Just want to offer the community an update as to what John, Nigel, and myself are up to in regards to Run 8.
First of all, we thank all of you for your support and great feedback. It is very much appreciated by us and our team so please keep the feedback coming. We do monitor most of the forums out there too.
Okay so it has been a difficult year for some of us. Nigel and his family had to make a major house move this last year and they are just now finally getting settled into a new place.
Me, well I had a major heart attack in August 2016 a few months before we released v2. Actually it was my second heart attack in two years. Since then my doctors found a major artery that was 96% blocked and installed a 3 cm stent to unblock it which has helped me feel way mobetta these days. Unfortunately there was quite a bit of damage done to my heart over the years leading up to the attacks which therefore is taking some time to heal. So I have been on a low stress diet and taking care of myself. I feel great now.
John has been busy working on many fronts. San Bernardino aka LA is almost there. Probably looking at a late March release. He is also working on v3. We will be introducing rain, snow and other cool environment stuff. We think that we will also have scheduled AI and some other cool stuff such as turntables, transfer tables, and working draw bridges. We hope to have it ready by the end of 2018, we'll see.
Three new regions are under development a long with six new routes. Some small, some large. Yes we have brought on more third party developers. However, due to our competitors watching everything we do we will be keeping our cards close to our vest in regards to the details of those projects and their release dates, prices, etc. but will release more information as we get closer to releasing them.
Yes, more trainsets are coming after the first of the year. Alcos, GE Dash9s, and a yard switcher... maybe a MP15 or SW1200.
Thank you again for all of your support and feedback and we wish everyone a safe holiday season.
Brad
12-13-17
Run 8 has released a holiday freebie with the Second UP and NS Sd70Ace Engines. The banner below to get them while they are hot!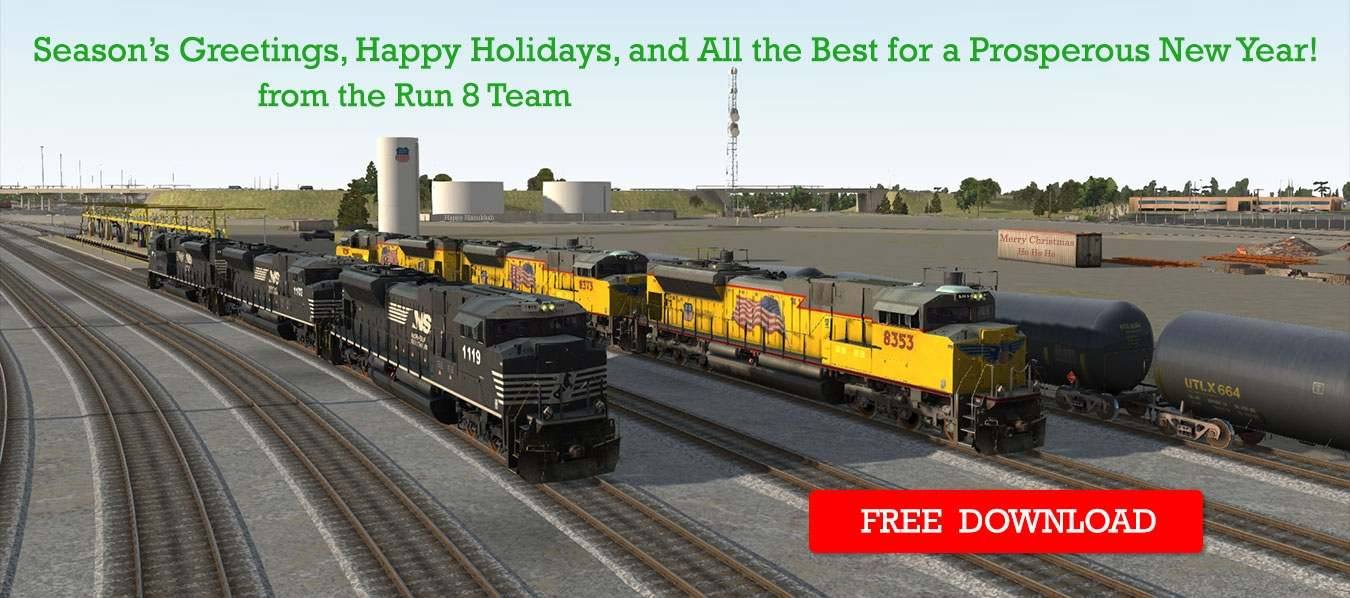 Highball News
Highball's Looking for some able bodies
As many of you know, Highball has been getting busier as of late. With that boost in activity we are in search of some more people to help run the show. In the link below you will find an application for Highball Staff. There are 2 different categories to pick from 
Staffer- Which are more involved and help make the bigger decisions and help keep order in the server in the moment. 
Moderator - more of the eyes of the server. These will report to the staff on what is going on. The staff will make decisions based upon what the moderator reports. Moderators will also help with smaller aspects of the server and communications team. 
https://goo.gl/forms/qRYr9OpigoUJsZ212
Welcome to the new Highball Site
Welcome to the new Highball Site!
We have been working very hard getting things set up on this new site. There will be more information to come so please stay tuned!